The February challenge

I have to confess, I hadn't beaded for the past two months. Over the last few years, my workroom consisted of the dining room in our home. In late December, I packed it all up in preparation for a move to an unused upstairs room and the reclamation of the dining room as an actual place to eat food. I removed the wallpaper, painted the walls and, as a first for us, my husband and I refinished the hardwood floor. That turned out to be more than we bargained for, both in terms of actual physical labor and the amount of time. We couldn't put an area rug down for seven days and then we slowly added back in all the furniture.

Now my studio is upstairs in a larger room (with crazy wallpaper and a bizarre 70s style fireplace). Taking a long break, I'd had a chance to think about what I really wanted to work on in the future.

I have an unusual approach to beading. I think most designers learn all about a technique and then design a piece with it. I work from the opposite direction. What is my vision for a finished piece and then considering which techniques are best suited for the job? I want 2016 to be the year I learn more techniques and I decided to start with bead embroidery. And the Etsy Beadweavers' February challenge "The Solar System" presented an excellent starting point.

I started with a crescent moon made with brick stitch, which is my "go to" stitch. I wasn't happy with it, a solid area of silver lined crystal beads is pretty uninteresting.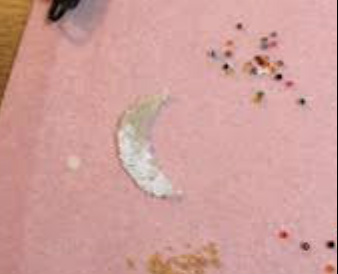 Then I began to think of vintage illustrations of the sun and the moon together as one face.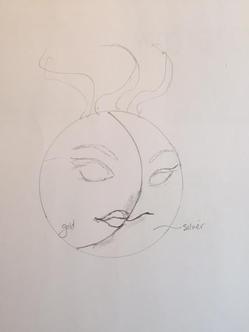 And I really liked that so I started beading on Nicole's bead backing while reading The Art of Bead Embroidery by Heidi Kummli and Sherry Serafini.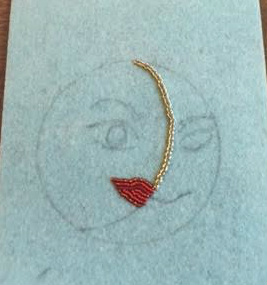 Turns out bead embroidery is super fun!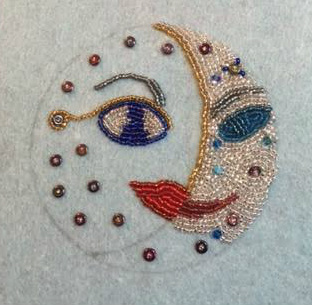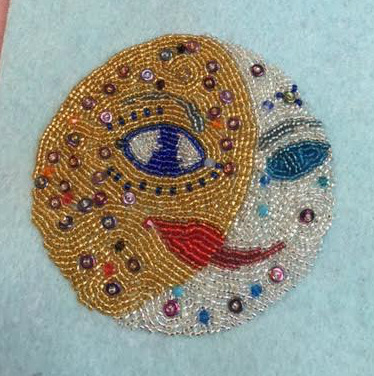 After a few days, the face was done. Now I had to decide how to finish it off.

A recent Facebook post about brick stitched spirals had caught my eye so I made a few to suggest the rays of the sun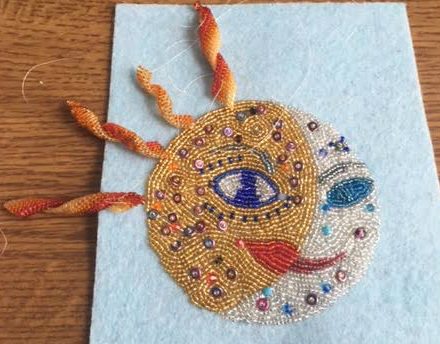 I wasn't sure I loved them though. And, I couldn't see how I would continue across the face of the moon and the rays were probably going to be difficult if someone actually wanted to make the necklace. So I was stuck. My husband came to the rescue though by reminding me that the theme was the solar system after all and I should just finish it off with all the planets!
So I peyote stitched mandalas for all the planets (and Pluto too since I wanted four on each side) and spread it out on my bead mat.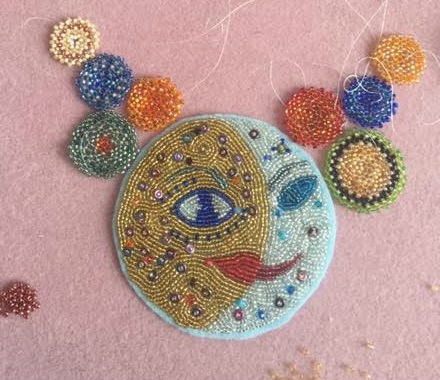 I finished off the edges of the bead embroidery with a round of brick stitch and then a round of picot edging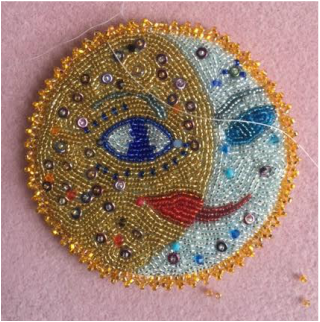 Finally I assembled the planets and added a neck strap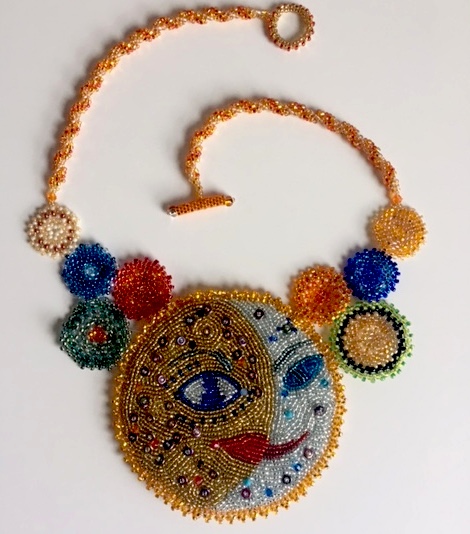 And while I didn't win the Etsy Challenge, I am still pretty pleased with myself for learning some new techniques!