About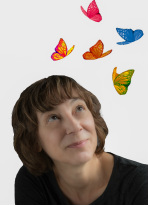 Karen Parker is a scientist and bead artist living in upstate New York. Karen has had a long career as a molecular biologist and trailing spouse (her husband, Joel Parker, is currently an Associate Professor at SUNY-Plattsburgh) and has lived in Switzerland, England and the US. Saddened by a lack of colors and textures in her molecular work, Karen always maintained an interest in quilting. This has recently evolved into a love of bead weaving and the creation of a series of beaded insect jewelry, inspired by her husband's entomological interests and her recent position at the University of Vermont. 
You can always contact Karen by email at
wizardislanddesigns@gmail.com
---
Artist Statement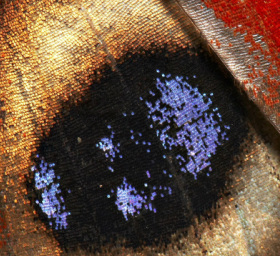 A self-taught beader, I've always been fascinated by off-loom beadwork, where thread and beads can be combined to create something substantial and magical.
Inspired by my background in biology and a microscopic view of butterfly wing scales (t
hey look just like beads
!), I started a series of beaded butterflies. This has recently expanded to include honeybees,dragonflies and even a kissing bug!.
I am a proud member of the Etsy Beadweavers team and a recent challenge on the "Art of Kandinsky" has inspired me to create my Mandala series.
---
Books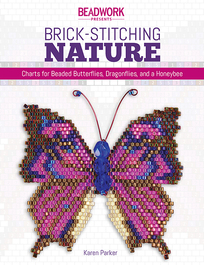 First book!
Brick-Stitching Nature is for sale on the
Beading Daily website
as an ebook available for immediate download.
---
Awards and Competitions
March 2015 Editor's Choice for Beadaholique's Pastels Contest for my Pale Pink and Purple Circles necklace. You can see the announcement here.

March 2015 Etsy Beadweavers' Competition on the theme of "Spring Migration". I was the Team Winner and Public Vote Winner for my necklace Monarch Migration.

2015 Annual Adirondack Artists Guild Juried Show. Pieces accepted were a Large Luna Moth Necklace and the Flight of the Monarch necklace.

2015 Lake Placid Center for the Arts Juried Show "Black and White". My Paper Kite Butterfly necklace was accepted.

2014 Regional Juried Art Show at Northwinds Fine Arts Gallery in Saranac Lake. A Circles Necklace in Blue and Orange and a Large Luna Moth Necklace were accepted.

2014 Annual Adirondack Artists Guild Juried Show accepted my Monarch Butterfly Necklace and my Honeybee Collar No. 2.

February 2014 Etsy Beadweavers' Competition "Warmth". I won the Team Vote for my Phoenix Necklace.

October 2013 Etsy Beadweavers' Competition "The Beauty of Geometry". I won the Team Vote for my Honeybee Collar.

2013 Juried Members Show, North Country Cultural Association for the Arts. My Black-veined Hairstreak Butterfly necklace was accepted into the show.